News
Dirt Jump Open vs Mother Nature
Back to News >
10th March 2011 by haydz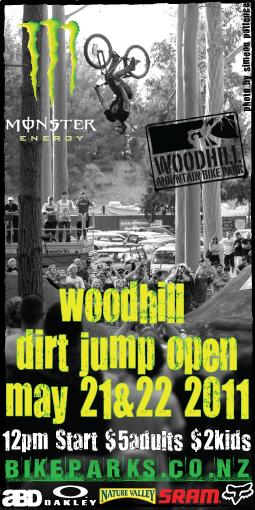 THIS WEEKEND!!!
There has been a lot of talk about whether the event will be on or not.. There is no "not".  We aren't even thinking about that… It will be on unless it is absolutely pouring down.
The jumps are running real good and the last few tweaks to "bling the jumps up" will be completed this week.
The forecast is looking pretty good.  See below for the latest forecast picture thanks to metvuw.co.nz.
Most of NZ's top riders have confirmed so the action is going to be hot!
HOT TIPS:
There will be freebies and spectator prizes worth thousands.
Monster Energy will be onsite with giveaways galore.
Bring cash to avoid delays and nab bargains from ABD and to grab awesome hot food and Jungle Coffee all in the Airfield arena.
Get in early to get a park up the top carpark.
It's a little (only a little) wet under foot outside of the actual jump lines so don't wear your best shoes or your heals ladies
Bring your yelling voice..it's going to mayhem.
Main event 12pm – 4.30pm 22 May 2011.
Check out this promo vid to get warmed up for Sunday >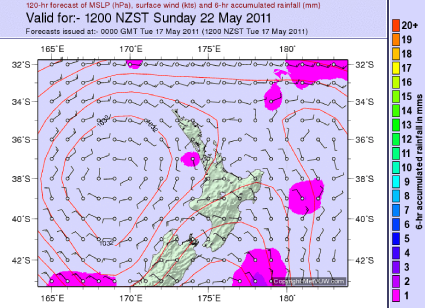 More details here.
http://www.bikeparks.co.nz/events/nz-dirt-jump-open