Schools Corporate Social
The Ultimate destination for groups of all ages & ability… all year round!
NZ's biggest MTB park
Over 100km of world class trails
Tailored packages for all corporate, school, club groups of any age or ability
Many years of experience with MTB Groups and guiding
More than 200 jumps and structures
Year round riding without riding in a bog
Checkout our Trail Map with video clips here >
Safety
You can be assured that safety is of utmost importance to us.
Read about our Safety information here >
Pricing and Enquiries
09 420 8549
Woodhill Guides
With an intimate knowledge of both Woodhill and Mountain Biking our Guides will help you get the most out of your ride by tailoring it specifically to the ability and fitness of your group, while also providing "friendly coaching" along the way.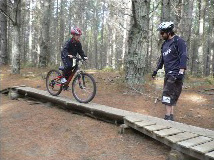 Meet the Woodhill Guides > (Coming Soon)
Referrals
"Epsom Girls Grammar School has been using Woodhill Bike park for the last 5 years and every time we have been out there it has been an amazing experience for the girls, who have got so much fun and enjoyment out of the adventure. It is something we look forward to every year." 
Emma Jensen, Learning Area Director of Health and PE
Epsom Girls Grammar School