Bike Hire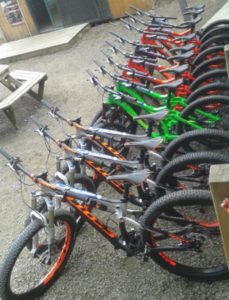 So… you've got no gear? Let us sort it!
To hire equipment you can simply turn up at Woodhill throughout our hours of operation, however we recommend that you book in advance to ensure we have the right size and style of bike available for you. Call 0272780969 to book.
Our staff are trained to recommend the appropriate bike, size and settings for each individual. They will also give you a full overview of the bikes operation and recommend the best trails or courses to ride.
(Please note that you will need a Credit Card at time of rental for Rental Agreement Purposes and charges apply if bikes are returned damaged)
BIKES //
Front Suspension Standard (including jump bikes) *
$50 for 2 hours.
then $15 for every hour thereafter
Full Suspension *
$95 for half day (up to 4 hours)
$120 for 4 hours +
These are top quality Scott 140mm+ trail bikes.
Electric Full Suspension
$120 for 2 hours
then $30 for every hour thereafter
Kids Front Suspension (20-24″ bikes) *
$15 for the first hour
then $5 for hour thereafter.
* Park Entry and helmet hire are FREE OF CHARGE with bike hire
HOURS //
Hire Hours 
7 days a week (closed Xmas Day and New Years Day):
8am – 4.30pm*
Wednesday:
8am – 8pm (All year round) 
* Last Hire is 1 hour prior to hire & proshop closing time.
Forest Hours
8am – 5.30pm and 9pm Wednesdays all year
Closed Xmas Day and New Years Day
EQUIPMENT //
Helmets
$5
for unlimited daily use
Light Hire
$20
Battery life of approx 3 – 4 hours