News
Scott Genius LT vs Rainbow Mountain.
Back to News >
7th June 2012 by haydz
When a new MTB trail is opened or an old tired trail is rebuilt, it's inevitable that stories evolve along the lines of "we used to ride that track back in the nineties…before you were allowed to…we used to ride down that up track…it was so much better then…they've ruined it…" and all sorts of mumbo jumbo along those lines.  The long and the short of it is, that any purpose built mountain bike trail (built by proper mountain bike trail builders) is better than some old line that would never have stood up to more than a few trail poachers.  Rainbow Mountain is a very good example of this.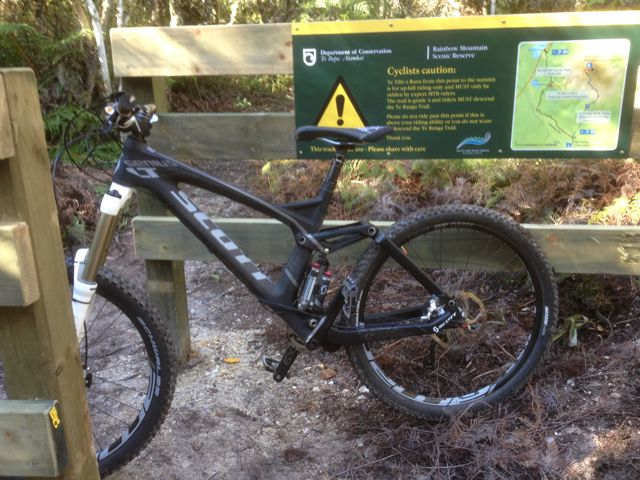 Word was out that a crew from Rotorua helped with the build on this once illegal for riding doc track.  The fact that Casey King (King by name and king by trail flow) was a big part of that crew, heightened my enthusiasm to check out this new trail asap.  Upon further investigation words like steep, grinding, push, walking were fairly common from seasoned riders and even from those that built the new lines.  Now I don't really like to do too much pushing, hence why I ride a bike for fun and enjoyment, the odd push is ok but what they were describing didn't sound like much fun to me.  What they neglected to mention, which I found out later is that if you do actually ride (or try to) the 'up' section of the mountain you miss out on so much of the beauty and in my mind the essential part of what makes Rainbow Mountain one of NZ's must do mountain bike trails.  Now before you go taking your Nana there for a wee ride dear…it's tricky.  Whilst any fit person may be able to push up the steep uphill section, a large part of the down section is really only suitable for advanced riders.
Back to the up hill section though.  My bike is the 2012 Scott Genius LT.  It is a cleverly designed 'trail' or 'all mountain' bike (depending on which way you swing) that boasts 170mm of travel.  I have never ridden a bike with this much travel that climbs as good as many short travel bikes on the market whilst still being versatile enough to conquer the down's with pleasure.  Many brands boast they can but many fail to deliver.  With a few small and inexpensive tweaks I have also changed it into a bike that is very happy and stable flying through the air.  Within five hundred metres from the carpark I realised that the LT was to become more handy to me on the down sections.  No bike I chose would have gotten me up that track in the saddle.  The up track was in my mind unrideable.  I know some may try and account that to my lack of lycra, my skinny pins and my lack of riding skill but I know so many more that will agree with me whole heartedly.*  Mountain biking for me is not a race, how far I can ride, and in this case if I could make it up that track without pushing.  For those that do try and ride the whole way up there, so be it, you'll miss out on what I believe is the whole point of the Rainbow Mountain experience.
My grumbling about the fact that so soon after getting out of the truck I was pushing up this track turned to sheer delight when my accomplice Justin told me to lift my chin up and check out the surroundings.  Justin knows a thing or two about native trees and winged it with the geothermal activity stuff and was happy to narrate along the way.  That place is amazing.  Every few minutes we were leaving one form of native to be surrounding by another and another and another picturesque moment.  The views were near breath-taking and we were no where near the top yet.  Shear red, orange and brown rock faces with steam pouring out of them, hidden thermal lakes and volcanic rock formations the entire way through the distant valleys.  Well built D.O.C layaways ensured you got the prime view and although the track didn't ease up at all, it didn't matter, I was sold.  I was pushing my bike up an amazing NZ walkway…and…I was inevitably about to be rewarded with a downhill from the top.  This was one of the few "pushes" that I have enjoyed, so even if the down section was average I would still be happy.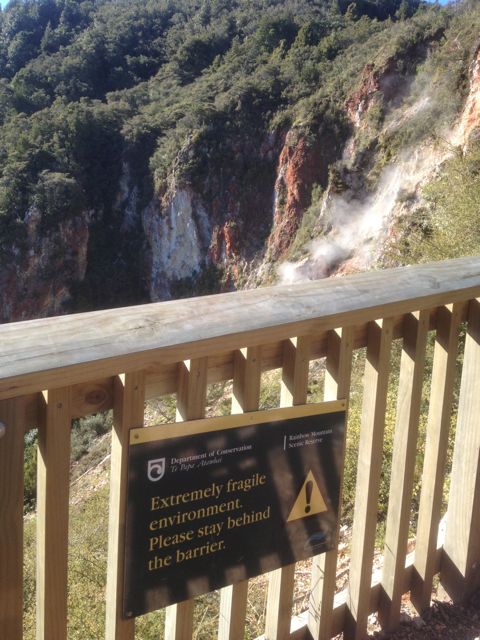 We popped out of the native onto a 4wd track that within a few minutes had us at the top of the Summit.  743m above sea level and 360° views as far away as Mt Ruapehu, Lake Taupo and Rotorua.  Wow!  I could have stayed all day up there but our attention turned to this fabled down section that was supposed to be as good as it gets…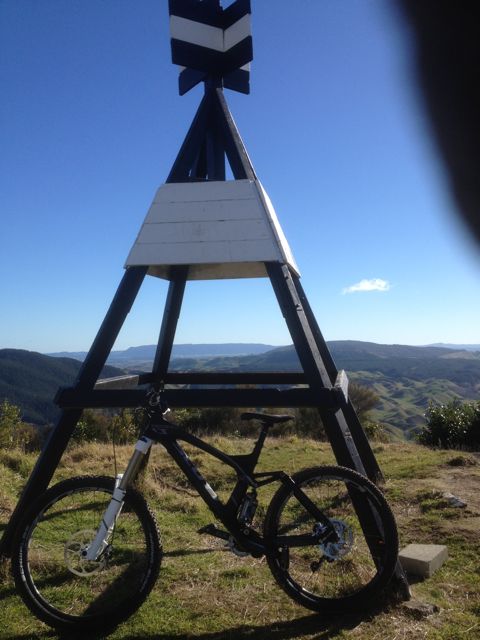 Te Ranga started off as techy and rooty goodness, that's the section that really isn't suited for beginner riders, as far as to say those that weren't technically suited would have disliked the journey just on that section alone.  On the other hand Justin and I loved every second of it.  My LT is famous for turning technical, bumpy tracks into seemingly smooth trail and as always I was not let down.  As we, for lack of a better word, hurtled down this trail I remembered something Casey had said the day before  "…you'll know when you get to our part…try not to brake, trust the berms and you'll be rewarded with doubles and tables that just work.."  Boom, I knew alright.  Half way down the mountain the trail turns into what at the time I described as trail building magic.  My LT floated down this section, flying around the corners into these jumps and pumps with perfection.  No brakes (ok maybe a sneaky tap from time to time) was the key, I just held on and was taken on a ride for what seemed like about 6-8 minutes of down (on this section alone) but I honestly couldn't tell you as we lost track of everything else but the sheer enjoyment of this trail.  We got to half way through this section and pushed back up, re-investigated the corners and jumps and then hit it all over again but this time flowed down with it all the way to the road.  If it wasn't such a push back to the top we would have ridden that thing like a rollercoaster all day long.
Rainbow Mountain + Intermediate or Advanced rider = MUST DO.
*I volunteered some time with a trail crew in Rotorua for a few days earlier and none of them had known anyone that had made it to the top without getting off so I didn't feel too bad.
MORE INFO:
Rainbow Mountain is 20-25 minutes from Rotorua on the SH5 Rotorua-Taupo road.  Parking is in a carpark right next to the road a few hundred metres on the left past the SH 38 Murupara turnoff (coming from Rotorua).
It took us about 50 minutes to push up to the top.
At the end of the down section it pops out at Kerosene Creek where you can have a soak in the thermal creek.  We rode (or should I say pushed) back to the truck via a new cycleway clearly not built by mountain bikers…bad idea.  Ride the road it is only about 5-10 minutes and is flat.