News
25th July 2017 by haydz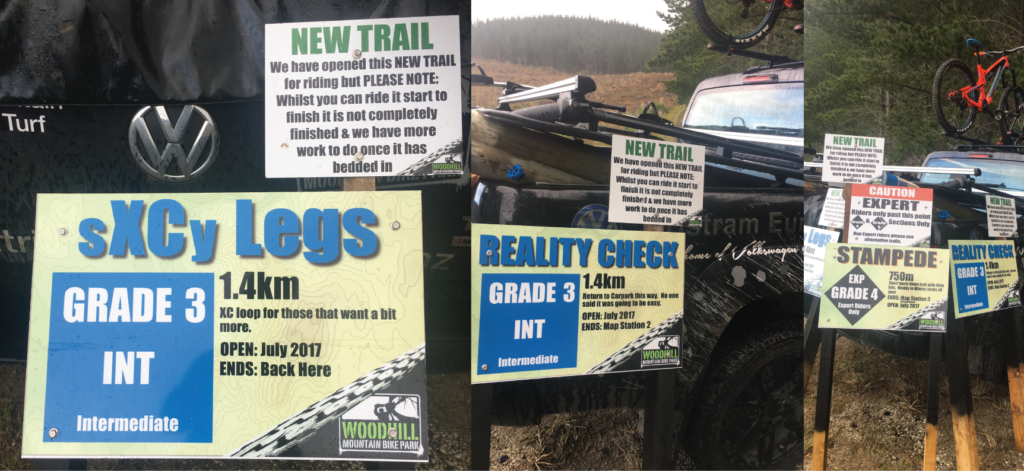 NEW TRAIL UPDATE:
This is Haydn – Operations and Trail Development Manager.
The new block that we have been working on since April will be open this Wednesday from 12pm. This is a pivotal new block and completes the new Core Trail Network that myself and the various Trail Crew have worked on since November 2014.
This newest block includes:
– just over 6km of new trail
2 alternate options for Intermediate Riders to get back up to the Map Station 2 ridge line from the bottom (Inland Rd)
an optional XC extension to make the return route even longer
a Grade 4 technical trail that has a few small features on it (Only the end section is open at present, until the clay section dries out later in the year)
As with all new trails they are "open but not finished", we continually reassess and upgrade trails as they need over time. We may even need to close them again if the rain doesn't ease up.. It will open off and on as we until it beds in completely.
We have also being working hard this month at improving all of the trails, including an extremely well timed drainage clearing mission on nearly all off the down trails, in anticipation for this massive rainfall we have just endured.. I firmly believe there are only a few places IN THE WOR
LD that can handle as much sustained water and still ride as good as Woodhill MTB Park does..
For more information on this new block, zoom into the photos of the trail signs, see the new map on our website or grab one from Stefan and his amazing staff at the Carpark/Proshop who have all been briefed…or go out and see for yourself.
NB we won't be answering individual questions about trails on Facebook.
The Core Trail Network that I have designed for XC, Enduro and Family genres and have been working on since 2014, has more to offer in terms of trail choice, trail quality, flow, layout, signage, variety, consistency and sustainability than ever before and better than many other (I never said all) riding destinations in NZ.
In addition to the selection of awesome new style of trails we now have, I have replicated a vastly improved version of every trail from the old Network. If you need further reassurance on this, I am happy to explain, feel free to email me. (except of course the 6 trails we had with jumps on them – see below)
Now that it is complete, which was crucial to the survival of our Bike Park and meeting the needs of NZ's key rider demographics, who keep our business, in business, I will be finally able to build a progressive area of jump trails. It will cater to jumpers from beginner to intermediate initially. I expect it to be ready to ride by this summer.
In the short term future, there will also be an extension of our network of trails down by the carpark for beginners, some short links throughout the whole network to increase options even further, more services for riders and continual improvements across the board. The long term future also sees many more trails, services and features to be continually developed.
Thanks to our loyal, patient and positive supporters, Woodhill MTB Park has survived and solidified its place as the home ground for Auckland Riders and remains as a big player in the NZ MTB scene.
A huge personal thanks to Stefan, Duncan, Mark and the rest of the amazing staff.
Haydn Shore
Operations Manager
Woodhill MTB Park