Auckland's Mountain Biking Home Turf

We are Aucklands only managed and purpose-built rider accessed single track network. Loaded with fun for people of all ages.  We also have Auckland's only managed Disc Golf Course.
We're just 40 minutes from downtown Auckland, have over 100 hire bikes and discs, an on-site mechanic service, pro-shop and cafe...AND
...AND WE ARE OPEN ALL YEAR ROUND, NO SNOW, NO HEATWAVES, JUST PERFECT
April 11, 2018
UPDATE: Friday 4th May
We are happy to announce that we are nearly 100% reopen. What is still closed is the really damaged areas which we will slowly work through as we can.
Open recently the northern block which includes all of the Advanced and Expert Trails like Off the Grid, Not 4 Granny, Stitch Up etc.
There is lots of changes to the original layout to reduce the dangers and the extra workload. The DAKINE Trail Crew have smashed it out of the …park and managed to resurrect trails that we never thought we would be able to.
Next week they will be heading over Inland Road to work on the 12km of extra XC Trails.
UPDATE: Friday 20 April
Good news for the weekend. The DAKINE​ Trail Crew have managed to get some more key trails cleaned up and ready for your riding pleasure. The trails they worked on this week have been getting progressively harder and harder to re-establish due to the shear scale of the damage. The trails that are left will test them even more. Next week they will try and get Off the Grid and Not 4 Granny open. Then it's across Inland Road where it got hit pretty hard. Only time will tell how long this takes but we are all happy with the progress so far.
Soooo in addition to last weeks update the following trails are good to go (potentially better than were)
– Judgement Call
– Escape Route (Stage 1)
– Release Valve
– Handle the Jandal (the start was impossible to resurrect so it has a new temporary start section that will be sorted in the near future)
– Winding Things Up (it is missing quite a big chunk near the end as it was one of the worst we've seen yet but you can still use this as an alternative up trail to Reverse Psychology)
– Set in Stone (including a new link on to Booty Call)
– Acquired Taste
– Faultline
– Kamma Cuzzy
Awesome conditions exist on all trails. See you this weekend.
UPDATE Friday 13 April 2018 5pm
MOUNTAIN BIKE PARK OPEN – TEMPORARY TRAIL NETWORK
We have managed to make some progress on the storm rebuild. The Trail Crew have managed to reopen a small area of the trail network. There are new temporary opening hours in place. The gates will open at 7am and close again at 5.30pm.
The proshop, coffee machine and mechanic service and Disc Golf course are fully operational.
The trails that are reopened will predominantly suit Families, Beginners and those that "want to ride and drink coffee". The rain that came with the winds has solidified the trails perfectly so they will be riding well.
We ask that all riders please exercise extra patience and care during this time.
We have temporary closed signs and white tape up ensuring riders cannot get into closed areas by mistake. The trails that are still closed are closed as they are literally unrideable with large trees littering the areas.
The good news is we have managed to open the following trails:
L Plates
Family Loop
Over and Out
Togs Togs Undies
No Vacancy
Better than the Road
Hokey Pokey
Tasting Platter (from here down you will also get a taste of the damage and our efforts so far)
Second Grade
Booty Call
One Night Stand
Reverse Psychology
Spit Out
Judgement Call into Reality Check
Some of these trails have changed as we had to detour around fallen trees.
All other trails require specialist forestry felling machines. This means we have no idea of timing at this stage. We are in talks regularly with the forestry crews and will ensure we are fully operational as quickly as we can.
Thank you for your understanding.
UPDATE THURSDAY 12 April 2018 7am
We regret to inform that the Woodhill MTB Park will be closed all day today and tomorrow (Friday).
Our assessment of the damage from Tuesday nights storm has found extensive damage to the entire trail network. This is the worst we have seen In the 17 years we have been in business. The safety of our riders is paramount and at this time there are literally hundreds of dangers that exist. These dangers are predominantly huge trees blocking entire trail sections.
Our management team have developed a short term plan to try and get something open by this weekend. The goal is to rebuild these blocked sections piece by piece, starting from and working away from the carpark, extending the ride-able trail options as we go. Due to the shear scale of the damage, the timeframe on this project is impossible to determine.
We have had Trail Crew on the ground already and will continue this full time until we are certain we have done all we can. We have asked for some assistance from the forest crews as much of the damage is beyond our resources, capabilities and machinery limitations. It is important to understand that there are some areas that we will not be able to save.
Our next update will be on Friday at approximately 5pm. This update can be found on our website homepage, on our Facebook page or by listening to our voicemail message.
Thank you for your understanding.
WEDNESDAY 11 April 2018 PARK CLOSED DUE TO STORM DAMAGE UNTIL FURTHER NOTICE.
Forest management has advised that the forest is a No-Go zone after last night's storm.
We will update as soon as possible so please keep an eye on this website and our Facebook page.
Thanks
August 1, 2017
Book now and get better at riding.. and better than your mates… immediately.
From basic skills to race preparation our resident pro riders will get your skills up.
Click on the picture to see more.
July 25, 2017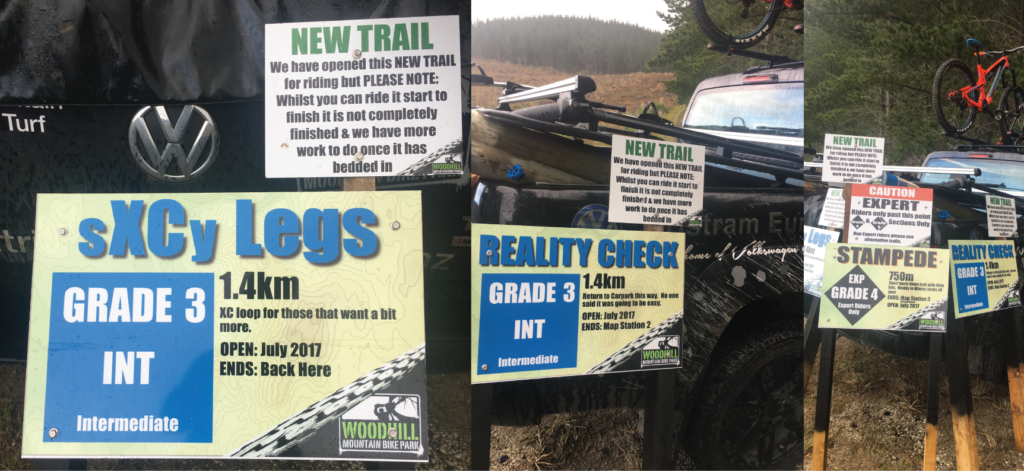 NEW TRAIL UPDATE:
This is Haydn – Operations and Trail Development Manager.
The new block that we have been working on since April will be open this Wednesday from 12pm. This is a pivotal new block and completes the new Core Trail Network that myself and the various Trail Crew have worked on since November 2014.
This newest block includes:
– just over 6km of new trail
2 alternate options for Intermediate Riders to get back up to the Map Station 2 ridge line from the bottom (Inland Rd)
an optional XC extension to make the return route even longer
a Grade 4 technical trail that has a few small features on it (Only the end section is open at present, until the clay section dries out later in the year)
As with all new trails they are "open but not finished", we continually reassess and upgrade trails as they need over time. We may even need to close them again if the rain doesn't ease up.. It will open off and on as we until it beds in completely.
We have also being working hard this month at improving all of the trails, including an extremely well timed drainage clearing mission on nearly all off the down trails, in anticipation for this massive rainfall we have just endured.. I firmly believe there are only a few places IN THE WOR
LD that can handle as much sustained water and still ride as good as Woodhill MTB Park does..
For more information on this new block, zoom into the photos of the trail signs, see the new map on our website or grab one from Stefan and his amazing staff at the Carpark/Proshop who have all been briefed…or go out and see for yourself.
NB we won't be answering individual questions about trails on Facebook.
The Core Trail Network that I have designed for XC, Enduro and Family genres and have been working on since 2014, has more to offer in terms of trail choice, trail quality, flow, layout, signage, variety, consistency and sustainability than ever before and better than many other (I never said all) riding destinations in NZ.
In addition to the selection of awesome new style of trails we now have, I have replicated a vastly improved version of every trail from the old Network. If you need further reassurance on this, I am happy to explain, feel free to email me. (except of course the 6 trails we had with jumps on them – see below)
Now that it is complete, which was crucial to the survival of our Bike Park and meeting the needs of NZ's key rider demographics, who keep our business, in business, I will be finally able to build a progressive area of jump trails. It will cater to jumpers from beginner to intermediate initially. I expect it to be ready to ride by this summer.
In the short term future, there will also be an extension of our network of trails down by the carpark for beginners, some short links throughout the whole network to increase options even further, more services for riders and continual improvements across the board. The long term future also sees many more trails, services and features to be continually developed.
Thanks to our loyal, patient and positive supporters, Woodhill MTB Park has survived and solidified its place as the home ground for Auckland Riders and remains as a big player in the NZ MTB scene.
A huge personal thanks to Stefan, Duncan, Mark and the rest of the amazing staff.
Haydn Shore
Operations Manager
Woodhill MTB Park
May 8, 2017

And the winner is….. Woodhill MTB Park.
We made the finals of the 2017 North West Country Business Awards.  On the finals night we won Highly Commended for Recreation and also received one of the two Supreme Awards – Peoples Choice.
Thanks to everyone who voted for us and everyones continued support.
October 2, 2016
IMPORTANT NOTICE TO DOG OWNERS
The management team at Bike Parks Ltd wishes to advise dog owners of a change in Dog Rules at the Woodhill Mountain Bike Park.
As of 1 January 2017 dogs will no longer be allowed to accompany riders in the trail network on Weekends and Public Holidays.
The reason for this decision is due to a number of reasons including
an increase in near miss accidents involving dogs
an overall increase in weekend rider numbers
an increase in owners not picking up after their dogs in the trails and carpark area or having them under an acceptable amount of control in the forest
an increase in owners losing track of their dogs in the forest and having to stay later to find them
We will continue to allow dogs into the trail network during weekdays only which will also be reconsidered on regular intervals.  We would like to remind owners that dogs must remain on a leash in the carpark and then can be let off leash once you enter the trails as long as the dog is under full control.  Please pick up after your dog.
Thank you for for your understanding
July 22, 2016
Its with great pleasure that we open EVEN more trails.  The XC network is well underway with the Dakine Trail Crew smashing out nearly 15km more trail in record time.  Check out the new map or see staff for more details.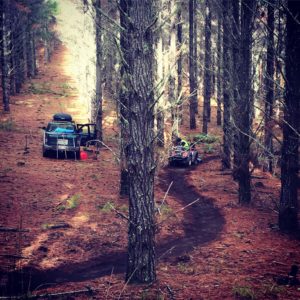 April 27, 2016
New Trails Open for 2016 Winter. The Trail Crew is always working their butts off to make Woodhill MTB Park better and better. The next step of the #MoreWoodhill program was rolled out today and will continue right throughout the 2016 Winter. Highlights so far this year are: New Trail "Escape Route" – Grade 2 […]
May 18, 2015
See more pictures and the latest video here A solid effort by the Woodhill Trail Crew saw nearly 20kms of new trail ready for the Stage 1 Opening April 2015. Sustainability and summer proofing was high on the priority list and the crew has pulled off trails with amazing flow and shape that will last […]
October 30, 2014
FOR IMMEDIATE RELEASE: It comes with great pleasure and excitement to announce that The Woodhill MTB Park's long term future has been confirmed. Bike Parks Ltd, the management company responsible for operating the Woodhill MTB Park signed a new agreement earlier this month with the new restored land owners of the Woodhill Forest Nga Maunga […]
November 29, 2011
We always have a trained medic and emergency response vehicle onsite during shop open hours.  Please add the following number to your phone contacts.  0272 780969. After an incident on the weekend whereby it took an extra 15 minutes for our emergency response to be sent and even longer for the ambulance to be called. […]