Auckland's Mountain Biking Home Turf

We are Aucklands only managed and purpose-built rider accessed single track network. Loaded with fun for people of all ages.  We also have Auckland's only managed Disc Golf Course.
We're just 40 minutes from downtown Auckland, have over 100 hire bikes and discs, an on-site mechanic service, pro-shop and cafe...AND
...AND WE ARE OPEN ALL YEAR ROUND, NO SNOW, NO HEATWAVES, JUST PERFECT
May 8, 2017

And the winner is….. Woodhill MTB Park.
We made the finals of the 2017 North West Country Business Awards.  On the finals night we won Highly Commended for Recreation and also received one of the two Supreme Awards – Peoples Choice.
Thanks to everyone who voted for us and everyones continued support.
October 2, 2016
IMPORTANT NOTICE TO DOG OWNERS
The management team at Bike Parks Ltd wishes to advise dog owners of a change in Dog Rules at the Woodhill Mountain Bike Park.
As of 1 January 2017 dogs will no longer be allowed to accompany riders in the trail network on Weekends and Public Holidays.
The reason for this decision is due to a number of reasons including
an increase in near miss accidents involving dogs
an overall increase in weekend rider numbers
an increase in owners not picking up after their dogs in the trails and carpark area or having them under an acceptable amount of control in the forest
an increase in owners losing track of their dogs in the forest and having to stay later to find them
We will continue to allow dogs into the trail network during weekdays only which will also be reconsidered on regular intervals.  We would like to remind owners that dogs must remain on a leash in the carpark and then can be let off leash once you enter the trails as long as the dog is under full control.  Please pick up after your dog.
Thank you for for your understanding
July 22, 2016
Its with great pleasure that we open EVEN more trails.  The XC network is well underway with the Dakine Trail Crew smashing out nearly 15km more trail in record time.  Check out the new map or see staff for more details.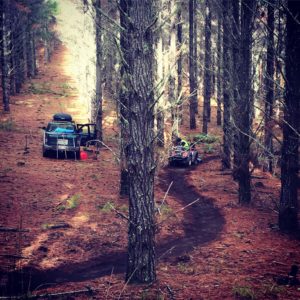 April 27, 2016
New Trails Open for 2016 Winter. The Trail Crew is always working their butts off to make Woodhill MTB Park better and better. The next step of the #MoreWoodhill program was rolled out today and will continue right throughout the 2016 Winter. Highlights so far this year are: New Trail "Escape Route" – Grade 2 […]
May 18, 2015
See more pictures and the latest video here A solid effort by the Woodhill Trail Crew saw nearly 20kms of new trail ready for the Stage 1 Opening April 2015. Sustainability and summer proofing was high on the priority list and the crew has pulled off trails with amazing flow and shape that will last […]
October 30, 2014
FOR IMMEDIATE RELEASE: It comes with great pleasure and excitement to announce that The Woodhill MTB Park's long term future has been confirmed. Bike Parks Ltd, the management company responsible for operating the Woodhill MTB Park signed a new agreement earlier this month with the new restored land owners of the Woodhill Forest Nga Maunga […]
November 29, 2011
We always have a trained medic and emergency response vehicle onsite during shop open hours.  Please add the following number to your phone contacts.  0272 780969. After an incident on the weekend whereby it took an extra 15 minutes for our emergency response to be sent and even longer for the ambulance to be called. […]