Auckland's Mountain Biking Home Turf
We are Aucklands only managed and purpose-built rider accessed single track network. Loaded with fun for people of all ages.  We also have Auckland's only managed Disc Golf Course.
We're just 40 minutes from downtown Auckland, have over 100 hire bikes and discs, an on-site mechanic service, pro-shop and cafe…
…AND WE ARE OPEN ALL YEAR ROUND, NO SNOW, NO HEATWAVES, JUST PERFECT
January 21, 2022
We have been given the OK to open for the weekend!
Trail restrictions apply as per the attached map.
Please be aware that the fire risk is still EXTREME, so the following rules will apply:
No access permitted to closed trails
Absolutely zero tolerance for any open flame, anywhere
Parts of the carpark will be closed off to avoid parking on dry grass
Every person needs to sign in on OUR system and have their phone with them, in case we need to send Evacuation notifications
If you see or smell smoke, please call Emergency Services ASAP
Thank you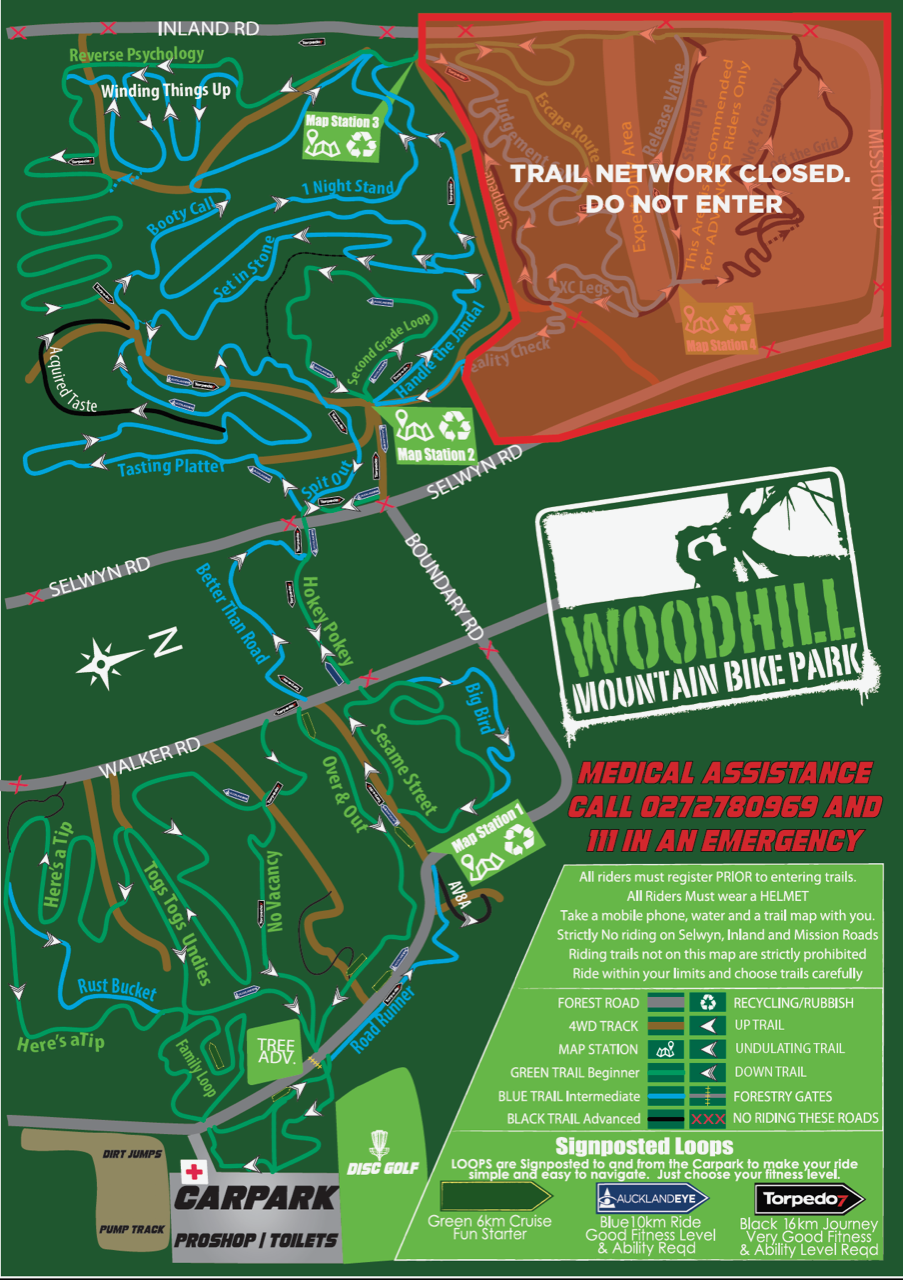 December 3, 2021
To our valued customers,
At 11:59pm on December 2nd 2021 New Zealand is moving to the Traffic Light System under the COVID-19 Protection Framework. That means that we must abide by a new set of regulations and industry guidelines.
From December 3rd 2021, Auckland will be placed in Red light. The following rules will apply:
Guests will be required to be fully vaccinated to visit the Woodhill Mountain Bike Park and Disc Golf course
Guests will be asked to confirm their vaccination status on our check-in app
Our Staff will carry out checks to validate Vaccine Passes
Masks are mandatory in the shop, hire desk and toilets
Please sign in on both, the COVID Tracer App and OUR sign-in system
Bike and Equipment Hire are strictly bookings only
Customers who wish to get a refund on the remainder of their annual passes can contact us through our website.
We appreciate your understanding.
Kind regards,
The Woodhill Mountain Bike Park Team
November 8, 2021
We're looking forward to reopening the park on Wednesday 10th November, 8am – 5.30pm. The following rules and restrictions will apply: Masks are COMPULSORY in the courtyard, car park and shop at all times Please don't congregate in groups of more than 25. That includes car park, trails, map stations, etc. Day passes can be purchased […]
July 21, 2021
Major tree felling operations will commence surrounding the carpark area from the 2nd of August for 3 weeks. Please take note of the following: Our midweek opening hours during this time will be: 9am to 5.30pm Access to the park is not permitted prior to 9am. Traffic control will be in place on the gravel road […]
May 20, 2020
NEW HOURS:9pm close on Wednesday's instead of 10pm.MIDWEEK – 8am Forest Opens instead of 7amPlease – no riding ever when Gates are closed and staff are not onsite. NEW CHECK IN SYSTEM: Please – Check in when your arrive… every time. This is not covid related, this is to ensure we have everyone accounted for […]
October 2, 2016
IMPORTANT NOTICE TO DOG OWNERS The management team at Bike Parks Ltd wishes to advise dog owners of a change in Dog Rules at the Woodhill Mountain Bike Park. As of 1 January 2017 dogs will no longer be allowed to accompany riders in the trail network on Weekends and Public Holidays. The reason for […]
November 29, 2011
We always have a trained medic and emergency response vehicle onsite during shop open hours.  Please add the following number to your phone contacts.  0272 780969. After an incident on the weekend whereby it took an extra 15 minutes for our emergency response to be sent and even longer for the ambulance to be called. […]